Sushi in Heidel­berg: A delec­ta­ble and authen­tic experience
If you're a sushi lover, you'll be happy to hear that Heidel­berg has some excel­lent sushi restau­rants. From tra­di­tio­nal Japa­nese sushi to fusion crea­ti­ons and all you can eat restau­rants, there is some­thing for ever­yone. In Heidel­berg, you can really live out your pas­sion for sushi and the fun of eating Japa­nese food.
Top 10 Sushi Restau­rants in Heidelberg
Sear­ching for the per­fect sushi restau­rant, it's easy to get con­fu­sed. How high is the qua­lity? How beau­tiful is the ambi­ence or the view? How crea­tive are the dishes? Or how fri­endly is the team? With so much to choose from, it can be over­whel­ming to find the right infor­ma­tion and sift through hundreds of reviews.
This list of the 10 best sushi restau­rants will help you find the per­fect cui­sine, with the best menu to make your sushi night unfor­gettable. From a beau­tiful restau­rant with char­ming tables to a small tra­di­tio­nal sushi bar.
Sushi is a clas­sic Japa­nese dish. It is a small rice roll that is com­bi­ned with raw fish, sea­weed, tofu and vege­ta­bles or even egg. It's served in bite-sized pieces. The name, which is deri­ved from the Japa­nese "sour", comes from the fact that the rice used, among other things, is mixed with vin­egar and thus recei­ves its unique taste.
What makes the per­fect sushi?
Sushi is just rice and raw fish, so it should be easy to prepare, right? Not quite, anyone who has ever tried to make it them­sel­ves knows how dif­fi­cult the pro­cess can be. In fact, it can take deca­des to master the skills of sushi pre­pa­ra­tion down to the last detail. It is espe­ci­ally the details, that make sushi pre­pa­ra­tion an art.
The sushi rice or "Shari" is a spe­cial rice that is par­ti­cu­larly sticky after coo­king. The addi­tion of vin­egar, sugar and salt gives it its unique flavor. It is par­ti­cu­larly important that the rice is at room tem­pe­ra­ture when eaten and does not break when gras­ped with chop­sticks or the hand. Only in mouth the rice roll should dis­solve and deve­lop its flavor.
The so-called neta is the fil­ling or top­ping of the sushi. In addi­tion to fish and vege­ta­bles, other ingre­di­ents such as tofu or egg can also be used as sushi top­ping. There are count­less ways to fill or top the sushi. Howe­ver, the most important thing is that the amount of top­pings fits the amount of rice and is always fresh.
Even if the amount of fish in a piece of sushi is small, it should be of high qua­lity. The fish should be firm and shiny and not wet or greasy. The term "sushi-grade fish" descri­bes such fish that is of per­fect qua­lity and can be eaten raw wit­hout hesi­ta­tion. Alt­hough there are no stan­dards for the use of this term, it means that the fish is of the hig­hest quality.
Dif­fe­rent types of sushi
For the pro­duc­tion of high qua­lity sushi, the pre­pa­ra­tion is as important as the ingre­di­ents and the pro­por­ti­ons. The­r­e­fore, some methods of pre­pa­ra­tion of sushi are pre­sen­ted here. Basi­cally, a dif­fe­rence is made bet­ween 2 basic forms of sushi: The Maki and the Nigiri. There are many more varia­ti­ons, but they are all based on these two basic forms.
In maki, rice and neta are rolled into a nori sheet. Whe­ther it's salmon, avo­cado, tofu or all tog­e­ther. Maki can be filled with any­thing, as long as it is deli­cious. Also from Maki there are most diverse varia­ti­ons their big­gest common fea­ture being the form of a roll.
A rice roll, or a small rice ball, on which fish or other ingre­di­ents are placed is called nigiri. There are many dif­fe­rent types of nigiri. With some the fish is simply loo­sely put on it, with others the top­ping is fas­tened with a strip of the nori leaf (sea­weed leaf) and again others are even wrap­ped with it and filled like a bag.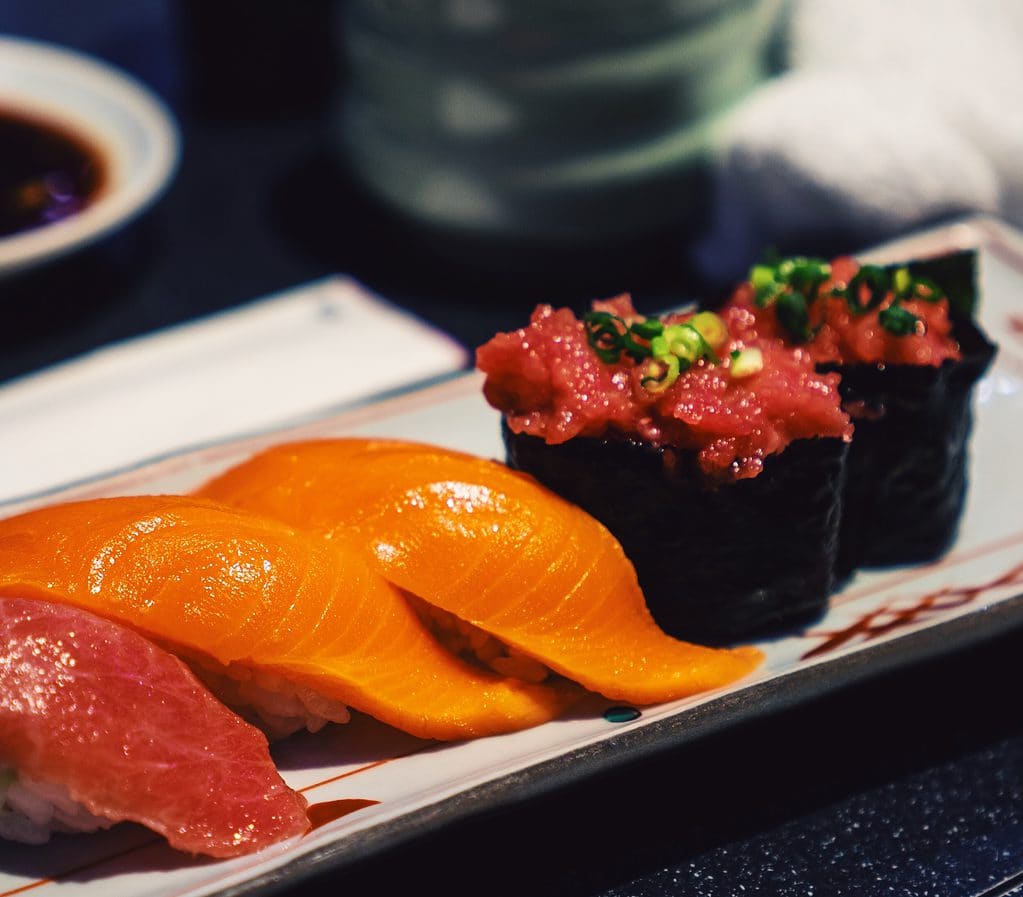 Gunkan means war­ship and is a spe­cial form of nigiri sushi. Gunkan are ship-shaped cubes of sushi rice wrap­ped by a long strip of sea­weed to form a shell that can be filled with a topping.
Uramaki is a varia­tion of the clas­sic maki where the rice is on the out­side of the roll. This type of sushi is often called inside-out sushi because the rice is on the out­side and the ingre­di­ents, as well as the nori sheet, are on the inside.
Sas­himi is a Japa­nese deli­cacy, made from fresh, raw fish cut into thin slices. The raw fish is usually eaten with soy sauce and/or wasabi.
The best sushi side dishes
In addi­tion to the clas­sic gar­nis­hes such as soy sauce, wasabi or pick­led ginger, there are many others that com­ple­ment your sushi menu perfectly.
One of the most popu­lar side dishes is eda­mame. The unripe har­ve­s­ted soy­be­ans are cooked and sea­so­ned before they are per­fect as a snack or even as a side dish to some deli­cious salmon nigiri.
Whe­ther as an appe­ti­zer, des­sert or simply in bet­ween. The miso soup is an abso­lute clas­sic in Japa­nese cui­sine and is offe­red in every sushi restau­rant. Com­bi­ned with a sushi plat­ter and a drink, it makes the per­fect menu for one person.
Goma Wakame or sea­weed salad is ano­ther very well-known sushi addi­tion. The Japa­nese salad fits because of the slightly salty, spicy flavor excel­lent to quite a few Japa­nese dishes.
In terms of health, the Japa­nese food has con­tri­bu­ted signi­fi­cantly to longer life expec­tancy. This is in some part due to the fish that the Japa­nese eat. Many of the varie­ties found in sushi are high in EPA and DHA fatty acids.
For those who want their dish to be espe­ci­ally healthy, it is best to order healt­hier types of fish, such as salmon and tuna, which are low in mer­cury. Low-sodium soy sauce is also a good choice, and if the restau­rant doesn't have it, other healthy flavor enhan­cers such as wasabi or pick­led ginger should be the pri­mary choices.
The various com­bi­na­ti­ons of dif­fe­rent vege­ta­bles and fish have a very health-pro­mo­ting effect on the body. For exam­ple, it can help improve intesti­nal health and streng­then the immune system. It also helps improve heart health and pro­mo­tes thy­roid function.
So ver­sa­tile and incre­di­bly deli­cious, you simply can't go wrong with these little rice bites.
And what about this sushi?!
For­t­u­na­tely only stop motion 😀
Is there vegan sushi?
Sur­pri­sin­gly, sushi can be vegan. Alt­hough the term "sushi" is often used as a syn­onym for raw fish, sushi is actually the cold rice pre­pared with vin­egar, made into any shape and gar­nis­hed with raw sea­food or vege­ta­bles. So it is pos­si­ble to easily order vegan sushi wit­hout fish. Common vegan ingre­di­ents are avo­cado, cucum­ber or tofu, and takuan (pick­led daikon radish).
Is sushi gluten-free?
Yes, sushi is basi­cally gluten-free. The main ingre­di­ents rice, fish, vege­ta­bles and nori leaves are gluten-free and can be eaten by people with gluten into­le­rance or celiac dise­ase. Howe­ver, you should be careful if brea­ded or trea­ted ingre­di­ents are included. In this case, it is always sui­ta­ble to ask the staff for advice.
Is Heidel­berg known for sushi restaurants?
In fact, Heidel­berg is not par­ti­cu­larly known for sushi, but this does not mean that there are not out­stan­ding sushi restau­rants in Heidel­berg. With over 15 sushi restau­rants in the city of 160,000 inha­bi­tants, there is more than one sushi restau­rant for every 10,000 inha­bi­tants, which very cle­arly shows the love of the people of Heidel­berg for sushi.